Next week I'll be heading down to San Jose, California for the 2018 Outer Dark Symposium, held this year at the famous and scary Winchester Mystery House.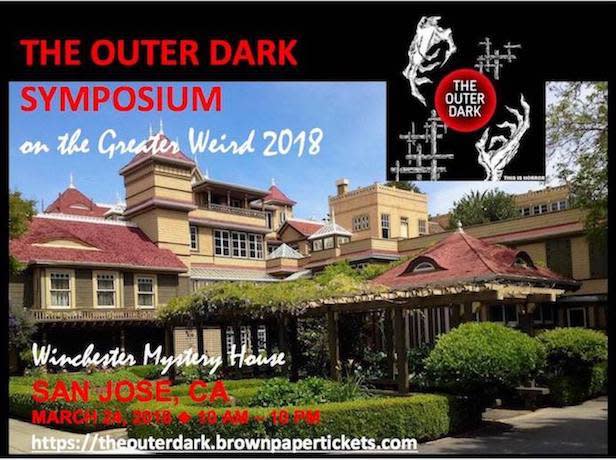 The Indiegogo fundraiser supporting this event still runs for two more days, so you can look HERE for supporting memberships, or to purchase donated books and other perks.
I'll be part of a Friday evening reading, along with Rios de la Luz, Tiffany Scandal and Scott R Jones, at the Plaza Suites hotel.
The Symposium proper happens on Saturday, with four panels, all of which sound interesting to me. I'll be a panelist on panel #3, "The Frame is the Landscape. In between the panels are individual readings. After, we'll be taking guided tours of the Winchester Mystery House.
Sunday, after the Symposium is officially closed, there will be a breakfast, then a few off-site activities for those who aren't heading home immediately.
This should be tons of fun! I'll post photos for those who can't be present, as much as possible. I look forward to seeing many good friends again, and meeting new ones for the first time.
Relevant links:
Brown Paper Tickets link: https://theouterdark.brownpapertickets.com/
Indiegogo: https://igg.me/at/theouterdark2018
The Outer Dark Symposium Facebook Event Page: https://www.facebook.com/events/192046028027298/
Friday Night Readings Presented by Word Horde Event Page: https://www.facebook.com/events/268053990398820/